Features
Slot Features Wild Symbol, Multiplier, Sticky Wilds
Release Date March 28, 2023
Game Provider: Pragmatic Play
Slot Type Video Slot
Theme Fruits, Music
Reels, Rows 7, 7
Bet Levels $0.10 - $100
Scatter Symbol No
Wild Symbol Yes
Bonus Game No
Free Spins
Respins No
Multipliers Yes
Jackpot No
Return to player 96.48 %
Volatility Medium
Giga Jar Cluster Link Strategy and Tips
When most people play Giga Jar Cluster Link, the ultimate goal is to have fun. However, there's this urge in the background to make some money out of the experience. If this describes you, follow these tips to be better prepared to add some extra coins to your bankroll.
Set your bets according to your bankroll. If you have a small budget, don't bet huge amounts.

Make bonus games your target. Although there's no Giga Jar Cluster Link free spin, there are plenty of other bonus features to take its place. Focus on them.

Put in a lot of practise with the Giga Jar Cluster Link and play for free. This won't cost you money to do, and it will reward you with a much-needed experience.

Take a break when necessary. If you're losing a lot of money, you might want to give it a rest and continue later. Continuing with the losing streak will only cause your bankroll to bleed out.
Slots are primarily games of luck, so you'll need plenty of that to get ahead in the Giga Jar Cluster Link Slot game. But if you can follow the tips we just listed above, success will be a whole lot easier to achieve.
Pros and Cons of Giga Jars: Cluster Link
Pros
Cascading reels
High RTP
Wide betting range
Demo game
Cons
No bonus buy
Low paying symbols
Giga Jar Cluster Link Gameplay and Design
The Giga Jar Cluster Link slot game comes with a beautiful 7×7 grid of full-scale entertainment. Offering cluster pays and both horizontal and vertical winning combinations, the Giga Jar Cluster Link pokie is designed to make slot gaming delightfully easy. With as little as 0.10 NZD, you can begin to play Giga Jar Cluster Link online. That's for players on a budget. However, if you like to bet huge amounts, the betting options are up to 100.00 NZD. It's up to you to select how much to stake.
Modern disco halls served as inspiration for the design of the Giga Jar. The colour scheme includes dark shades of blue, purple, red, and green in varying intensities. The coolness this colour combination produces will instantly make you light on your feet, and the groovy music being skillfully played by the DJ will get you moving to the rhythm in no time.
Giga Jar Cluster Link Symbols: Which Pays the Most?
The Giga Jar Cluster Link slot online symbols appear in 3D cube form. There are six pay symbols in total, and they are all different cubed fruits. The low-paying symbols are kiwi, blueberry, and grapes. The high-paying symbols include strawberry, orange, and peach. The strawberry will pay out the most, according to your bet.
Low-paying symbols have payouts ranging from 0.10x to 20x, while high-paying symbols are worth 200x to 500x the wager.
Aside from these, there are special symbols, for example, instant prize symbols and the wild jar symbol. Check the paytable for the lowdown on the winning potential of each symbol. 
How to Trigger Giga Jar Cluster Link Paylines
The Giga Jar Cluster Link pokie doesn't have paylines. Wins are brought about by matching 5 symbols that appear randomly vertically or horizontally on the grid. Symbols adjacent to each other can also be matched to produce a win. 
Going a step further, the game has special features that can also work to trigger wins for you.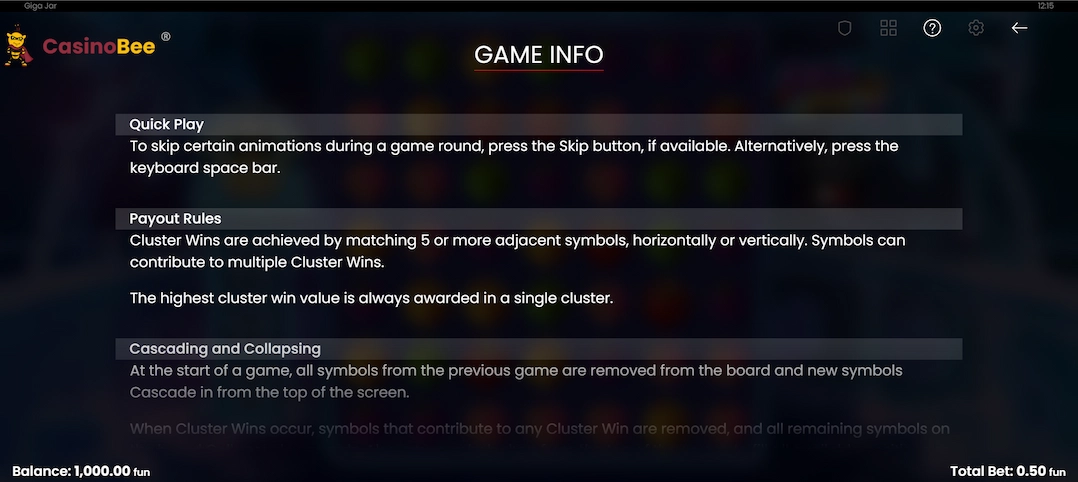 Giga Jar Cluster Link RTP & Volatility – Hot or Not?
Giga Jar Cluster Link slot online has a return-to-player percentage of 96.48% as well as medium volatility. What this means for New Zealand players is that they'll earn sizable returns at intervals.
This slot also has a feature that's not found in many slot games, and that is the "ante bet." This feature is significant because it can influence the RTP of the game. If you play with the ante bet, the RTP will change to 96.47%. But without the ante bet, it remains 96.48%.
How to Get the Giga Jar Cluster Link Maximum Win
The maximum win that's available in this game is 10,000 times your bet. You can land such a massive win by getting a cluster of about 16 symbols. 
The special features of the game can also help make you a winner in any Giga Jar Cluster Link slot online casino.
Giga Jar Cluster Link Special Features
Taking our focus away from the main symbols, we shall be looking at the exciting features of the game that our experts discovered while testing the Giga Jar Cluster Link free play version. Check them out below:
Instant Prize Symbols
When five or more of these appear together, it means that your wager is about to be multiplied. Multipliers could be anywhere from 1x to 1000x.
Jar Metre
This is a metre that NZ players can use to know how well they are playing. It has some elements, namely Wild Jar and Giga Jar activation metres, along with Giga Jar multiplier levels.
Wild Jar Symbol
This is the wild symbol of the game.It can be used as a replacement for any other symbol to complete winning cascades. This symbol also attracts multipliers to you, and for every cluster win that it contributes to, the value of the multiplier increases.
Giga Jar Feature
If there are three wild symbols in a row, it will activate the Giga Jar metre. The Giga Jar function won't activate until this metre is full. You need to get three winning cascades in a row to do this. Once the bonus round begins, the Giga Jar symbol will emerge on the grid at random and remain there until the bonus round concludes.
Snowball Feature
In this feature, you'll be treated to a view of 1 or 2 large symbols appearing on the grid at random positions. The size of the symbols can either be 2×2, 3×3, or 4×4. They can either appear in the form of regular or instant prize symbols. After their entrance the large symbols will be replaced by their 1×1 equivalents.
Ice Breaker Feature
With ice breaker, you can get rid of anywhere from one to three winning symbols. It won't eliminate just any symbol; its targets are only the regular-paying ones.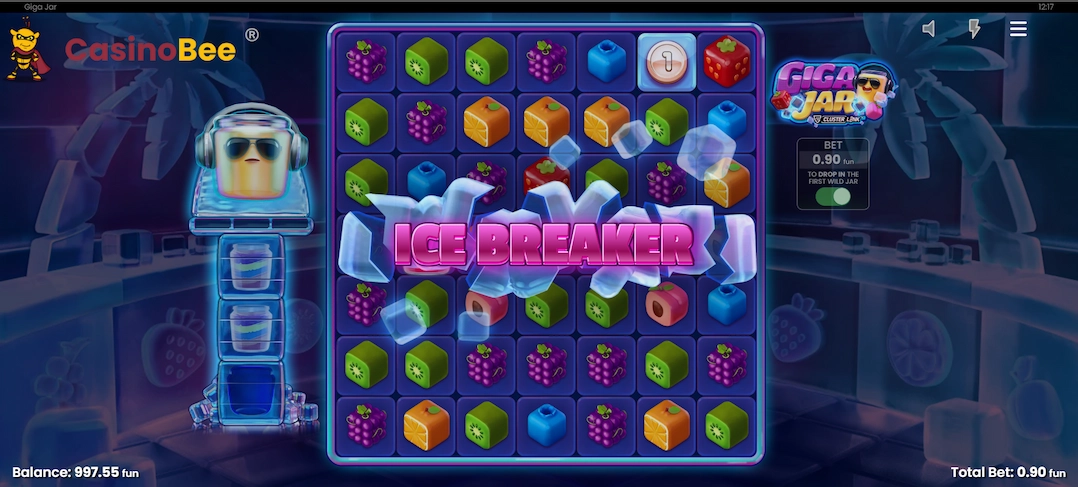 Giga Jar Activation Metre
If you're a lover of free spins, you might be disappointed here because Giga Jar Cluster Link free spins are not among the features of the game. But this doesn't mean the game is boring because, in place of free spins, there is the Giga Jar activation metre. This feature will provide you with steady bonuses.
What are the odds of triggering the bonus in the Giga Jar Cluster Link slot?
Our experience at Giga Jar Cluster Link slot online casinos is quite interesting. We chose to play at different online casinos in order to arrive at a concrete conclusion about the bonus feature of the game. It took quite a while to initiate the Giga Jar bonus. After an average of 130 spins, we were able to launch the feature.
The first and second wild jars were easy to fill. The challenge lies in filling all three wild jars. This is to let New Zealand players know that playing at Giga Jar Cluster Link slot sites will require a lot more input to see good results because the game is designed to make you work for your bonus.
Play Giga Jar Cluster Link for Free
With the Giga Jar Cluster Link slot demo you can play this game for free. We have a list of the best Push Gaming online casinos; you can check them out and enjoy the game even if you have no money.
Taking One Step Further: Play Giga Jar Cluster Link for Real Money
It's also possible for NZ players to play Giga Jar Cluster Link for real money at our listed Push Gaming casinos. You won't find a buy bonus in the game; rather, what you'll enjoy is a full squad of bonus features that will work to make you a happy player. They include the jar metre, wild jar symbol, giga jar feature, instant prize symbols, snowball feature, and ice breaker feature. They'll help you land more bonuses, and of course, that will increase your winnings.
The Giga Jar Cluster Link Slot in Light of Our Experience
It goes without saying that we had an amazing time playing at the Giga Jar Cluster Link slot casinos. Here, we'll highlight some of the things that made our experience worthwhile.
It's not often that one gets to play a slot with a 7×7 grid and no paylines, so this was quite an interesting change. Players who are open to trying new things aside from the regular 5×3 might want to give this a shot.
The Giga Jar Cluster Link slot online free game revealed that with as little as 0.10 NZD, you can take part in the game. This is welcome information for players with a low budget.
Although there is no bonus buy feature, the sheer number of bonus features that are packed into this game will amaze everyone who plays it. With the possibility of triggering different bonuses, your gameplay will be taken to the next level.
Last but not least, this game has a high RTP. This is an indication that you'll receive generous payouts when you become a Giga Jar Cluster Link winner. The medium volatility informs you that average wins are possible every now and then.
Giga Jar Cluster Link Slots vs Jammin' Jars - Comparison Table
If Giga Jar Cluster Link thrilled you, then you're most likely to enjoy a similar game from the same provider, Push Gaming, titled Jammin' Jars. Here's a comparison of the two:
Giga Jar Cluster Link
Medium volatility
High RTP
Low bet of 0.10 NZD
No free spin
7x7 grid
Jammin' Jars
High volatility
High RTP
Low bet of 0.20 NZD
6 free spins
8x8 grid
Conclusion – The New Hive for Casino Bee
We enjoyed every bit of the Giga Jar Cluster Link pokie. The fun was thorough and satisfying. The game has so much to offer if you can play patiently. There are many bonus features to make your gambling a smooth sail, like instant prize symbols and others. It has a high RTP and medium volatility, which makes it a valuable game for slot aficionados.
FAQ
Is there a bonus buy feature in the Giga Jar Cluster Link slot?
No, this game has no bonus buy feature.
What is the max win of the Giga Jar Cluster Link slots?
Lucky players can land the maximum payout of 10,000x.
Where can I play the Giga Jar Cluster Link slot for real money?
This game is available at all of our listed Push Gaming casinos.
Is there a gamble round in the Giga Jar Cluster Link slot?
No, this game offers no gambling feature. All you'll have to play are the base game and bonus rounds.
What is the volatility of the Giga Jar Cluster Link slot?
The game has medium volatility.
Does Giga Jar Cluster Link pokie have a good RTP?
Yes, the return-to-player percentage of the game is 96.48% and we consider the game's RTP above average and a good payout tool for players.
Similar Games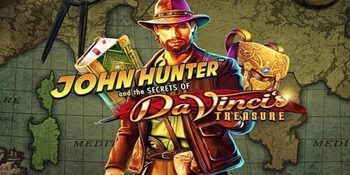 Provider: Pragmatic Play
RTP: 96.53 %
Volatility: High
Rating: 4.5/5
Play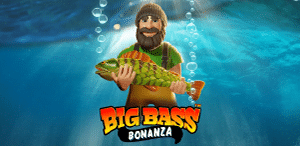 Big Bass Bonanza Hold & Spinner
Provider: Pragmatic Play
RTP: 96.71 %
Volatility: Medium-high
Rating: 4.5/5
Play